Frazer Harrison/Getty Images Piers Morgan has defended Donald Trump over his tributes to Muhammad Ali, saying the late boxing legend said...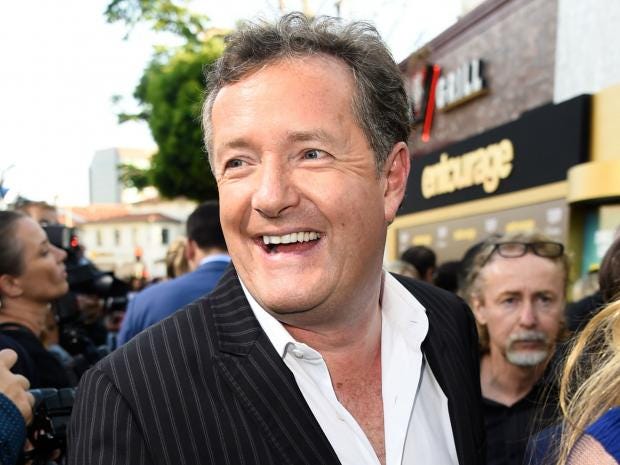 Frazer Harrison/Getty Images
Piers Morgan
has defended
Donald Trump
over his tributes to Muhammad Ali, saying the late boxing legend said "far more inflammatory/racist things" than the presumptive Republican presidential nominee ever has.
Mr Trump found himself at the centre of controversy this weekend after speaking in the media about his relationship with Ali, who died late on Friday night.
Some accused the billionaire businessman of "hypocrisy"
and asked if Ali, who converted to Islam in 1964, would have been included in Mr Trump's proposed ban on Muslims entering the US.
But Morgan, one of the MailOnline's most high-profile journalists and a presenter on the ITV show Good Morning Britain, suggested Mr Trump's comments about Muslims in the wake of the Paris and San Bernardino attacks were minor compared to Ali's own controversial views.
"Muhammad Ali said far more inflammatory/racist things about white people than Donald Trump ever has about Muslims," Morgan wrote on Twitter on Sunday morning, adding "#fact".
The comment sparked an angry reaction, with the top response from Nick Kenney asking whether Morgan "would have been brave enough to write such b****** while Muhammad Ali was still alive". The same commentator asked Morgan: "Why do you write such a good column about the life of [Ali] one day, then insult his memory with such a lousy tweet?"
In further tweets, Morgan said Ali "wanted a ban on mixed-race marriage", calling him an "imperfect genius in and out of the ring" and "dangerous and exciting".
"Why would stating that Muhammad Ali made a lot of inflammatory, race-charged statements in his life be remotely controversial? He did," Morgan wrote.
And in a mock-apology, the TV host added: "I'm sorry for 'saying inflammatory things for attention'. That's the last thing Muhammad Ali would have condoned."
http://www.independent.co.uk/news/people/muhammad-ali-said-far-more-racist-things-than-donald-trump-says-piers-morgan-a7066521.html