Mohamed Lahouaiej-Bouhlel's driver's licence and bank card were inside the lorry French prosecutors have confirmed that Mohamed La...
Mohamed Lahouaiej-Bouhlel's driver's licence and bank card were inside the lorry
French prosecutors have confirmed that Mohamed Lahouaiej-Bouhlel was behind the wheel of the lorry that ploughed into people celebrating Bastille Day on the seafront in Nice on Thursday, killing scores of people.
The 31-year-old Tunisian delivery man was known to police but not previously linked to jihadist groups.
A driver's licence and bank card bearing his name were found inside the lorry by officers soon after they shot dead the attacker.
On Friday, investigators and forensic experts raided his flat in the working-class Abattoirs area, not far from Nice's main railway station.
Tunisian security sources told BBC Arabic that Lahouaiej-Bouhlel was from the northern town of Msaken, about 10km (6 miles) outside the coastal city of Sousse.
His divorced parents lived in France, but he had relatives living in Msaken and visited Tunisia frequently, the last time eight months ago, the sources added.
Lahouaiej-Bouhlel was married with three children, although he no longer lived with his wife, who was detained by police on Friday.
A woman who knows the family told the BBC that Lahouaiej-Bouhlel was thrown out of their home in the Le Ray area of Nice more than a year ago after allegedly beating his wife.
'Quiet loner'
Several neighbours in the four-storey block of flats where he subsequently moved described him as "quiet" and a "loner" who did not even respond to their greetings.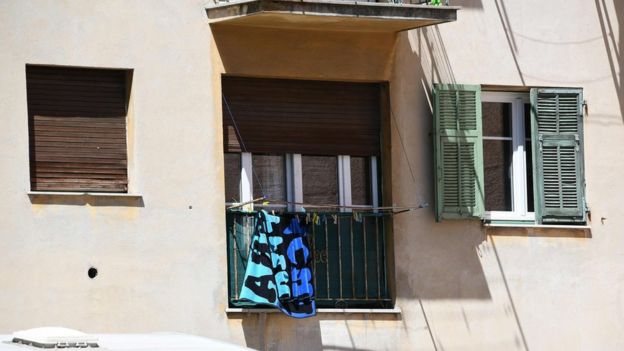 Image copyright AFP Image caption Mohamed Lahouaiej-Bouhlel lived in a first-floor flat in a working-class district of Nice
He had a van parked nearby and would often be seen climbing the stairs to his first-floor flat, carrying his bike.
One of the neighbours, who gave his first name as Sebastien, told the AFP news agency that he did not seem overtly religious.
Anan, who lived on the ground floor, said she was suspicious of him because he was "a good-looking man who kept giving my two daughters the eye".
One woman recalled that he was nice to her and helped her all the time. But, she said, his behaviour was sometimes "strange".
He once asked to rent her mailbox and that when she refused he had called her "nasty", she added. When she learnt of the attack, she immediately wondered if he might have been involved.
Assault
Prosecutor Francois Molins told a news conference on Friday that Lahouaiej-Bouhlel had been in trouble with police between 2010 and 2016 for threatening behaviour, violence and petty theft.
In March, a court in Nice convicted him of assaulting a motorist with an improvised weapon during an altercation and handed him a six-month suspended prison sentence.
The 19-tonne white lorry used in the attack was rented on 11 July in Saint-Laurent-du-Var, just to the east of Nice.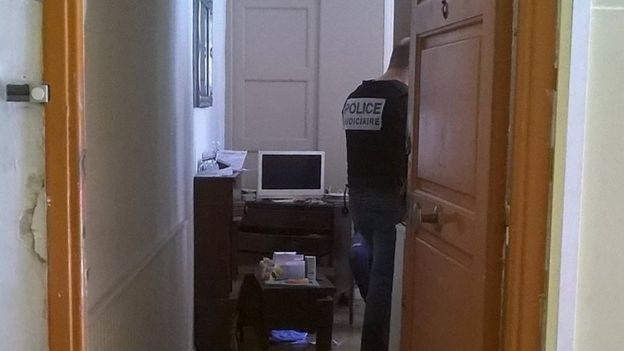 Image copyright AFP Image caption Police searched for evidence inside Mohamed Lahouaiej-Bouhlel's flat on Friday
The attack began at about 22:30 on Thursday, when the lorry turned onto the Promenade des Anglais, where a huge crowd was gathered for a Bastille Day fireworks display.
The lorry drove for 2km (1.2 miles) along the seafront boulevard, swerving from side to side in an apparent effort to kill as many people as possible.
Mr Molins said that when he reached the famous Negresco Hotel, Lahouaiej-Bouhlel fired repeatedly at three policemen.
They returned fire and pursued the lorry for another 300m (985ft), before shooting him dead inside the cabin near the Palais de la Mediterranee hotel.
Nader El Shafei, an Egyptian who was on holiday in Nice, told the BBC that the driver looked "very nervous" during the attack.
"I kept yelling at him, waving with my hands to stop and trying to tell him that there is a lot people under his truck - dead already. But he did not give any attention to anyone outside the truck."
"And suddenly I saw him picking up something like a cellphone. I thought he would call the ambulance for the accident but it seemed that I was wrong, because he just picked up his gun and he started to shoot the police."
'Never flagged'
Inside the lorry, police found one automatic pistol, bullets and two replica assault rifles, as well as another fake pistol.
Mr Molins said Lahouaiej-Bouhlel was "totally unknown" to French intelligence services, and was "never flagged for signs of radicalisation".
"Although yesterday's attack has not been claimed, this sort of thing fits in perfectly with calls for murder from such terrorist organisations," he added.
Anyone seen as a threat to state security in France has what the government refers to as a "fiche S".
The majority of attacks carried out in France since January 2015 have been staged by men designated with a "fiche S", and also linked to so-called Islamic State (IS).
Some are linking the attack to a 2014 audio message from IS spokesman Mohammed al-Adnani who told supporters: "If you can't detonate a bomb or fire a shot, manage by yourself... run them over with your car," he said.
Many of France's jihadist killers, starting with Mohammed Merah in Toulouse in 2012, began their journey towards militant Islam as petty criminals. The Nice attacker may have followed the same path.
BBC NEWS