New PM fires George Osborne and appoints Philip Hammond as chancellor Boris Johnson is surprise choice as foreign secretary Amber Rudd bec...
New PM fires George Osborne and appoints Philip Hammond as chancellor
Boris Johnson is surprise choice as foreign secretary
Amber Rudd becomes home secretary
Follow all the latest developments on our
live blog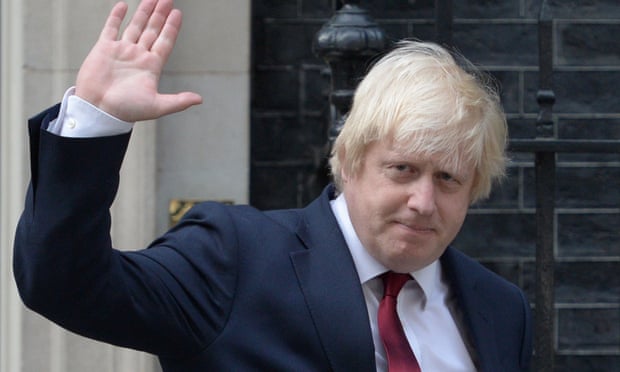 The newly appointed foreign secretary, Boris Johnson, waves as he leaves 10 Downing Street. Photograph: Oli Scarff/AFP/Getty Images
Philip Hammond
has been appointed chancellor of the exchequer and Boris Johnson foreign secretary as Theresa May allocated the top posts in her cabinet on her first evening as prime minister.
Hammond, who was foreign secretary, was the first to be appointed and replaces George Osborne, who was fired from the government, Downing Street announced.
The second major appointment – and a much more unexpected one – was Johnson as foreign secretary.
The former mayor of London played a major role in the leave camp during the EU referendum, and was the initial favourite to succeed Cameron, only for his leadership bid to end abruptly when his key Brexit ally, Michael Gove, stood against him.
The final major appointment saw Amber Rudd, the former energy secretary, promoted to home secretary in place of May herself, having only entered parliament in 2010.
Johnson said nothing to reporters as he left Downing Street to head for the Foreign Office. After Hammond left, he made the short trip to the Treasury, to meet his new team. Downing Street said more jobs would be announced soon.
Having left Downing Street via a back entrance, Osborne later sent a tweet saying:
In another tweet he paid tribute to his old boss:
Downing Street announced that Michael Fallon would remain in his job as defence secretary.
Two of May's new ministers were MPs who have spent some years in the wilderness. David Davis was made minister for Brexit – officially known as secretary of state for exiting the European Union – six years after he resigned as shadow home secretary to re-fight his parliamentary seat in a protest over civil liberties.
Liam Fox, who left the post of defence secretary in 2011 following revelations that his close friend the lobbyist Adam Werritty had travelled with him on official business, was made secretary of a new ministry for international trade.
Credit : The Guardian UK