Nigeria is now in the eyes of the world because of Boko Haram terrorism. Bring-Back-Our-Girls campaign has produced four distinctive sc...
Nigeria is now in the eyes of the world because of Boko Haram terrorism.
Bring-Back-Our-Girls campaign has produced four distinctive school of thoughts with 'round-the-clock' protesters and adherents of this social movement from every corner of the globe.
From world leaders to celebrities,from musicians to movie stars,from attention-seeking politicians to 'do-nothing' politicians,from students to human rights activists,from market women to road-side mechanics and also the general public.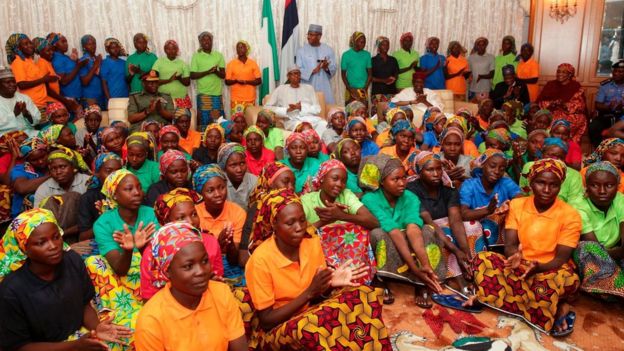 Chibok girls with President Buhari inside Aso Rock Villa in Abuja. Photo Credit : BBC/AFP.
1.Chibok Agnosticism: This school of thought is defined by erudite scholars and social media activists as the group of people who believe it is practically impossible to determine the exact number of missing schoolgirls due to conflicting reports,therefore no strong proof to believe the incident actually took place in Borno state,Northeastern part of Nigeria.They tag the whole process as a global scam.
2.Chibok Atheism: Members of this school of thought strongly believe that the whole exercise is a global charade.No schoolgirls were kidnapped by the Boko Haram terrorists,everything was pre-planned by the Northern elite and some politicians to frustrate Dr.Goodluck Ebele Jonathan from seeking a re-election in 2015 and probably to secretly negotiate for 'amnesty' and 'soft-landing' for all the terrorists in prisons.
3.Chibok Religionism: Members of this group have vowed never to stop protesting(both online and offline) until the schoolgirls are safely rescued back to be with their parents/guardians.They wholeheartedly believe that over 200 schoolgirls were kidnapped,although they are not sure of the exact figure and cannot produce photographs of the missing schoolgirls.
4.Chibok Anarchism: This group of pessimists has no business in#BringBackOurGirls campaign.They are just concerned in making the country ungovernable for President Goodluck Jonathan just to score cheap political goals and portray him as the most 'clueless' President in the world.
P.S : Humanitarianism school of thought is the other side of Chibok Religionism.Some similarities and few differences.Humanity or Mankind is a very broad intellectual discourse.It anchors on the bedrock of self-denial modus operandi and selfless service to liberate fellow human beings from the bondage of poverty,oppression,ignorance and diseases.
WHERE IS YOUR OWN SCHOOL OF THOUGHT?
LET'S DISCUSS IT.
Professor
Jagunmolu Baba Adam
Acting Vice Chancellor,
University of Sambisa.
Badagry Campus
Lagos State.
NIGERIA.
West Africa.
Africa.
Northern Hemisphere.