Make sure you acknowledge their fears RACHEL HOSIE @rachel_hosie Terrorism is one of the most serious threats we face in the world today, ...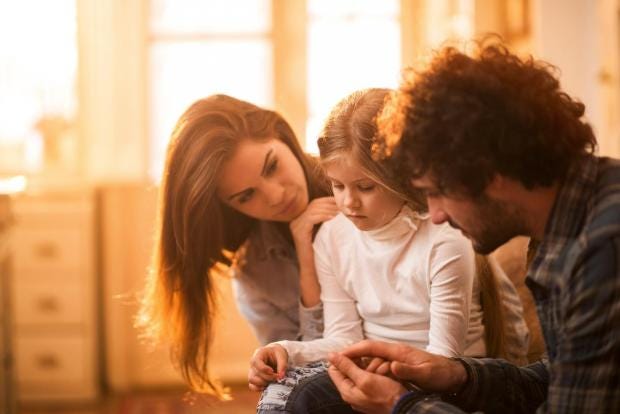 Make sure you acknowledge their fears
RACHEL HOSIE
@rachel_hosie
Terrorism is one of the most serious threats we face in the world today, but one of the hardest parts of dealing with attacks can be explaining them to children.
You don't want to scare kids unnecessarily, but at the same time it's important they understand.
Of course, children of different ages can handle varying amounts of information, so it's hard to know how much to tell them.




All the facts about the Manchester terror attack
"Don't delay telling your children," Harold Koplewicz, President of the Child Mind Institute, told
Time
after the Paris attacks in 2015.
"It's very likely that your child will hear about what happened, and it's best that it comes from you so that you are able to answer any questions, convey the facts, and set the emotional tone."
The NSPCC has now published advice to help parents talk to their children about terrorism.
How to talk to children about terror attacks:
1. Listen carefully to a child's fears and worries
It's crucial to make sure their concerns are heard and not dismissed - once you know what they're worried about, you can understand.
Acknowledge their fears instead of making them feel silly for being afraid.
2. Offer reassurance and comfort
The NSPCC advises avoiding complicated and worrying explanations that could leave children more frightened and confused - instead, reassure and comfort them.
It's important to remind children that they're safe and surrounded by security.
3. Help them find advice and support
Children can find it easier to understand distressing events and feelings by talking to services such as Childline, which is free, confidential and available 24/7.
Manchester explosion in pictures
In the wake of the Manchester attack, an NSPCC spokesperson said: "We are deeply saddened to learn of the devastating terror attack in Manchester. Our thoughts are with the victims and families of those who have been affected.
"Our advice for any child or teenager upset and anxious in light of this news is for them to talk to a trusted adult, be it a parent, teacher or Childline."
Children and young people can contact Childline for free, confidential support and advice, 24 hours a day on 0800 1111 or at
childline.org.uk
.