Share this with Facebook   Share this with Twitter   Share this with Messenger   Share this with Email   Share These are ...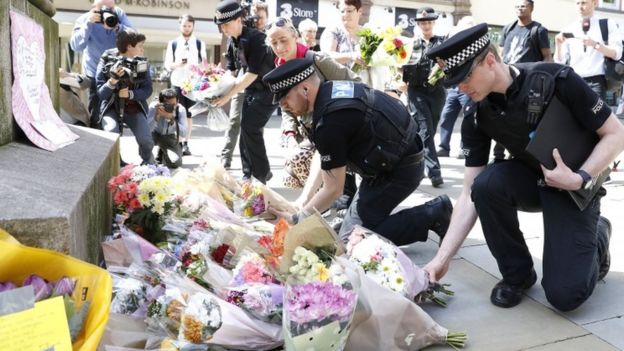 Twenty-two people have been killed and 59 injured after suspected attacker 22-year-old Salman Abedi detonated a home-made bomb at the end of a concert by US singer Ariana Grande at Manchester Arena.
Here is what we know so far.
What happened?
Police say a lone male suicide bomber detonated a home-made bomb in the foyer of Manchester Arena as crowds were leaving the concert.
Officers were called at 22:33 BST on Monday and streets surrounding the arena and Victoria station were sealed off.
Twenty-two people were killed in the explosion, including an eight-year-old girl.
A further 59 people, including 12 under the age of 16, were injured and taken to hospital.
The attacker died at the scene.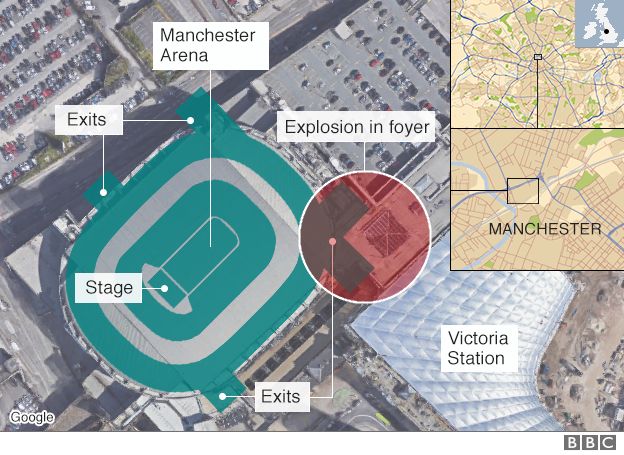 Eye witnesses said the noise of the explosion was followed by a flash of fire.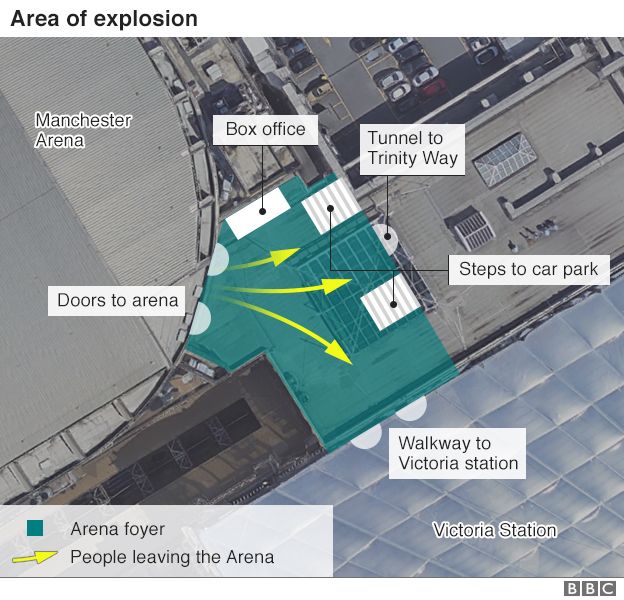 Metal nuts and bolts were strewn around the floor among bodies and the smell of explosives was in the air, witnesses said.
More than 240 emergency calls were made; 60 ambulances and 400 police officers attended.
Who carried out the attack?
Salman Abedi, 22, has been named by police as the suspected suicide bomber.
"The priority remains to establish whether he was acting alone or as part of a network," Greater Manchester Chief Constable Ian Hopkins said.
Daniel Sandford, BBC home affairs correspondent, said Salman Abedi was born in Manchester on New Year's Eve 1994.
The BBC understands that he has at least three siblings: an elder brother who was born in London, and a younger brother and sister who were born in Manchester.
The family, believed to be of Libyan origin, has lived at several addresses in Manchester, including at a property at Elsmore Road in the Fallowfield area, that was raided by police on Tuesday.
Earlier, Mr Hopkins had said the force would treat the incident as a terror attack "until we have further information".
The so-called Islamic State group has claimed responsibility, but this has not been verified.
Who are the victims?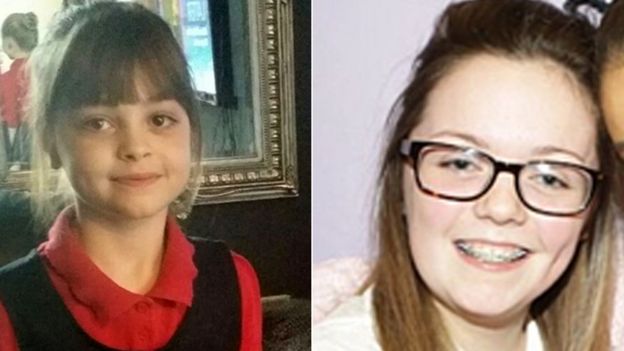 Eight-year-old Saffie Rose Roussos, from Leyland, Lancashire, was killed.
And the third victim has been named as John Atkinson, 28, of Radcliffe in Bury.
A further 19 people who died have not yet been named.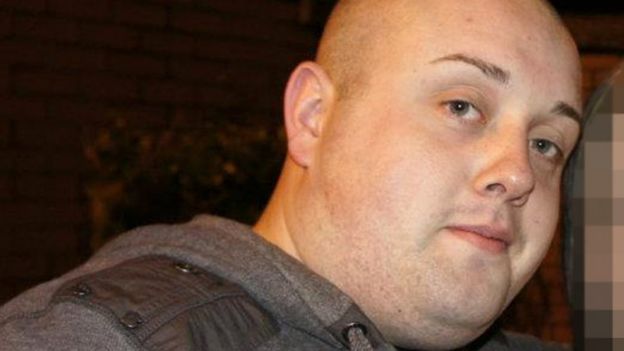 The injured are being treated at eight hospitals in Greater Manchester.
Many have life-threatening conditions, the prime minister said.
A hotline has been set up for people concerned about loved ones - on 0800 096 0095.
A help centre for anyone needing assistance has also been set up at Gate 11 of Manchester City's Etihad Stadium.
Relatives are using social media to hunt for missing loved ones.
A vigil will be held in Albert Square, in Manchester, at 18:00 BST.
---
---
What disruption has been caused?
A cordon remains in place around Manchester Arena and Victoria station while forensic work is carried out.
All train services to and from Victoria station have been cancelled and the station will remain closed on Wednesday.
It could be "several days before it reopens" rail operator Northern's regional director, Liam Sumpter, said.
Mr Sumpter said: "We are working to provide as many services as possible while the station remains closed, but customers need to be aware that there may be some short notice cancellations and delays."
Security has been stepped up in Manchester, London and at transport hubs around the UK.
Extra armed police officers will be deployed on Saturday at Wembley for football's FA Cup Final and at Twickenham for rugby union's Aviva Premiership final, Scotland Yard has said.
Details for all upcoming events in the capital are being reviewed, they said.
Amid the disruption on Monday night, stories have emerged of
random acts of kindness
as the city pulled together to help people caught up in the attack.
A joint statement says that it will be up to schools to decide whether exams should go ahead.
What do we know about the investigation?
A 23-year-old man was arrested in connection with the attack on Tuesday morning.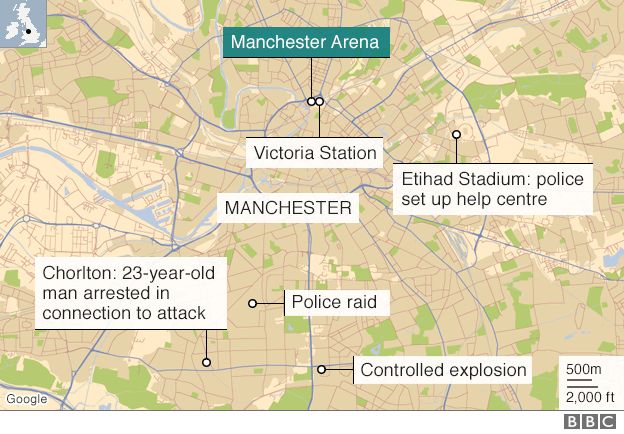 The investigation is "complex and wide ranging", police said, and they have urged people not to speculate on the attacker's identity.
Police have "executed warrants" in two areas of Manchester: one in Whalley Range and another in Fallowfield, where a controlled explosion took place.
Officers are working with the National Counter Terrorism Policing Network and the intelligence services to try to establish more details about the attacker.
GMP chief constable Ian Hopkins said it was the "most horrific incident" Greater Manchester has faced.
If the bombing is confirmed to be a terrorist attack, it would be the worst in the UK since 52 people were killed in the
London bombings of July 2005
.
Anyone with information can call the anti-terror hotline on 0800 789321.
BBC NEWS