British writer Kazuo Ishiguro has won the 2017 Nobel Prize for Literature. The novelist was praised by the Swedish Academy as a write...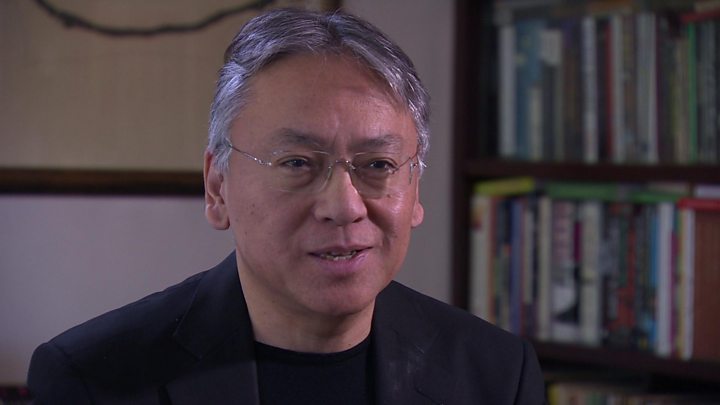 British writer Kazuo Ishiguro has won the 2017 Nobel Prize for Literature.
The novelist was praised by the Swedish Academy as a writer "who, in novels of great emotional force, has uncovered the abyss beneath our illusory sense of connection with the world".
His most famous novels The Remains of the Day and Never Let Me Go were adapted into highly acclaimed films. He was made an OBE in 1995.
The 62-year-old writer said the award was "flabbergastingly flattering".
He has written eight books, which have been translated into over 40 languages.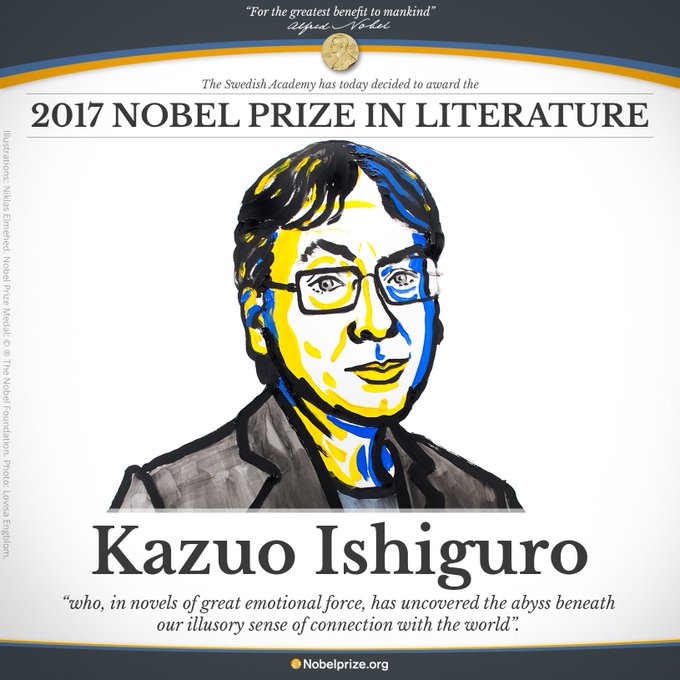 When contacted by the BBC, he admitted he hadn't been contacted by the Nobel committee and wasn't sure whether it was a hoax.
He said: "It's a magnificent honour, mainly because it means that I'm in the footsteps of the greatest authors that have lived, so that's a terrific commendation."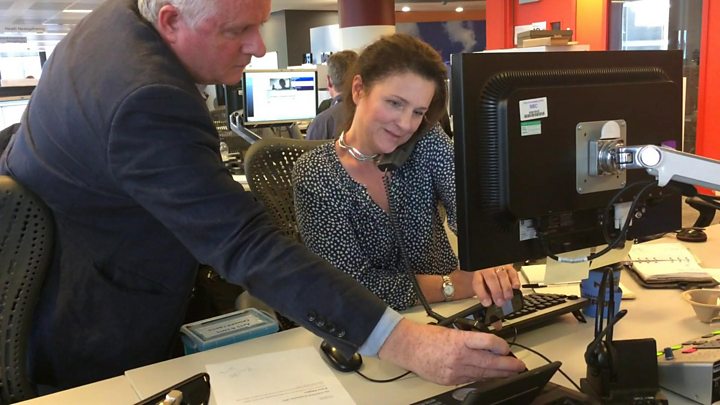 BBC producer Elizabeth Needham-Bennett is the first to tell Kazuo Ishiguro he's won
He said he hoped the Nobel Prize would be a force for good. "The world is in a very uncertain moment and I would hope all the Nobel Prizes would be a force for something positive in the world as it is at the moment," he said.
"I'll be deeply moved if I could in some way be part of some sort of climate this year in contributing to some sort of positive atmosphere at a very uncertain time."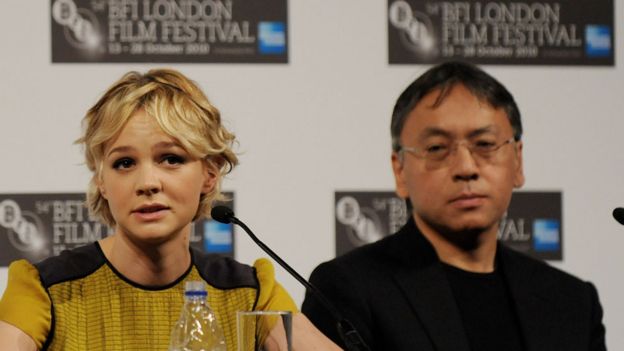 Carey Mulligan starred in the film version of Ishiguro's novel Never Let Me Go

Who is Kazuo Ishiguro?

Born in Nagasaki, Japan, in 1954, he moved to England with his family when his father was offered a post as an oceanographer in Surrey
He read English and philosophy at the University of Kent after a gap year that included working as a grouse beater for the Queen Mother at Balmoral
He studied an MA in creative writing at the University of East Anglia, where his tutors were Malcolm Bradbury and Angela Carter
His thesis became his critically acclaimed first novel, A Pale View of Hills, published in 1982
He won the Booker Prize in 1989 for The Remains of the Day
His work, which includes scripts for film and television, looks at themes of memory, time and self-delusion.
The Nobel committee praised his latest book The Buried Giant, which was released in 2015, for exploring "how memory relates to oblivion, history to the present, and fantasy to reality".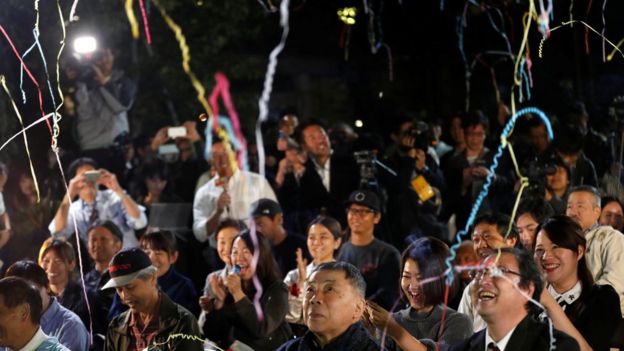 Fans gathered in Tokyo in the hope of celebrating Haruki Murakami, who had been the bookies' favourite - but ended up celebrating Ishiguro's win.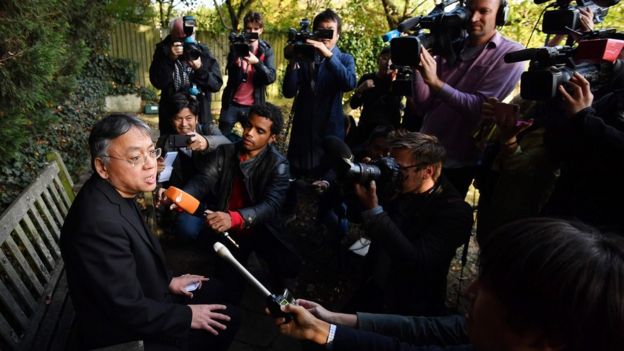 Kazuo Ishiguro was inundated with members of the press at his north London home after his award was announced
Sara Danius, permanent secretary of the Swedish Academy, described his style as "a little bit like a mix of Jane Austen, comedy of manners and Franz Kafka".
She said Ishiguro was a writer of "great integrity", adding: "He doesn't look to the side. He's developed an aesthetic universe all of his own."
The Nobel comes with a prize of nine million kronor (£844,000, $1.1m).
Kazuo Ishiguro's gift - by BBC arts editor Will Gompertz
For me, he is one of the great living writers working in any language. All writers can tell stories. Ishiguro tells stories on another level.
He places the reader in some sort of alternative reality - which might be the future, it might be the present, it might be the past. They feel like places that are whole and real, but you don't know them.
They're weird and not necessarily happy places. But they're places that you can inhabit and relate to, and you become deeply involved with the characters. That's the writer's job - he just does it better than most.
Read Will's full blog post.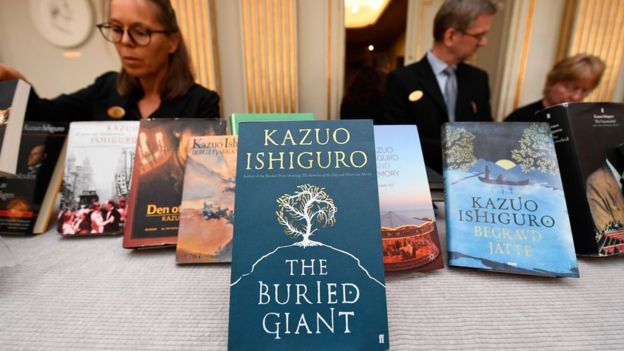 Kazuo Ishiguro - his books at a glance

His first novel A Pale View of Hills was about a Japanese woman living in England trying to come to terms with her daughter's death
He followed that with An Artist of the Floating World in 1986

The Remains of the Day tells the story of a butler in a stately home whose boss was a Nazi sympathiser

His only book of the 1990s was The Unconsoled, which was followed by When We Were Orphans in 2000

2005's Never Let Me Go followed a group of students at a boarding school living in a dystopian future. It was turned into a film starring Keira Knightley and Carey Mulligan five years later.

Nocturnes: Five Stories of Music and Nightfall was a collection of stories published in 2009
His most recent novel was The Buried Giant in 2015

Ishiguro has also written a number of screenplays, including The White Countess and The Saddest Music in the World, as well as other short stories


BBC NEWS.