Think you know Mary Magdalene? Think again A quite contrary Mary: Rooney Mara in Mary Magdalene A new film about Mary Magdalene sets out to...
Think you know Mary Magdalene? Think again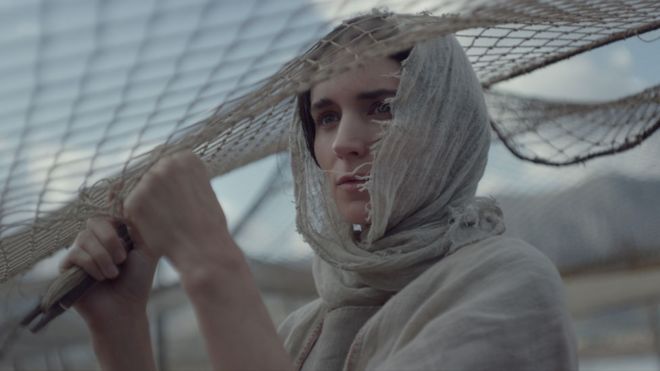 A quite contrary Mary: Rooney Mara in Mary Magdalene
A new film about Mary Magdalene sets out to refute the commonly held assumption that she was a prostitute redeemed by Christ.
Jesus of Nazareth. Jesus Christ Superstar. The Last Temptation of Christ. Just a selection of the films, television dramas and stage shows that have depicted Mary Magdalene as a fallen woman redeemed by the Son of God.
A new film, though, flips the script to show Mary in a new light - as an independent free-thinker who bore witness to Jesus's death and resurrection and who deserves to be considered as an apostle in her own right.
This is deeply contentious territory that flies in the face of the commonly accepted orthodoxy that Mary of Magdala was a prostitute.
Yet Rooney Mara and Garth Davis, the star and director of Mary Magdalene, are prepared for whatever controversy comes their way.
The claim that Mary was a sex worker comes from Pope Gregory I, who declared her to be a penitent prostitute in the year 591.
It is a notion that has been perpetuated for centuries - partly thanks to Andrew Lloyd Webber, who had Mary sing about the "many men" she's "had" in Jesus Christ Superstar.
Yet there is no reference to Mary being a prostitute or a sinner in any of the New Testament gospels. Indeed, the only suggestions of ill repute come in Mark and Luke, which refer to demons being cast out of her.
Put all the evidence together and it is easy to conclude that Mary has been the victim of 1,400 years' worth of character assassination.
(The Catholic Church "cleared" Mary's name in 1969, while Pope Francis formally identified her as the "apostle of the apostles" in 2016.)
"The more I got into it and the more I learned about who Mary really was, the more shocked I was that most people know her to be a prostitute," says Mara.
"All these men who are in this story have churches around the world in their name, yet she is known as the whore. It made me kind of angry actually."
"To learn it was an invention of Pope Gregory was astonishing, and to learn that Mary's story had never been told in a popular way was tragic," says Davis.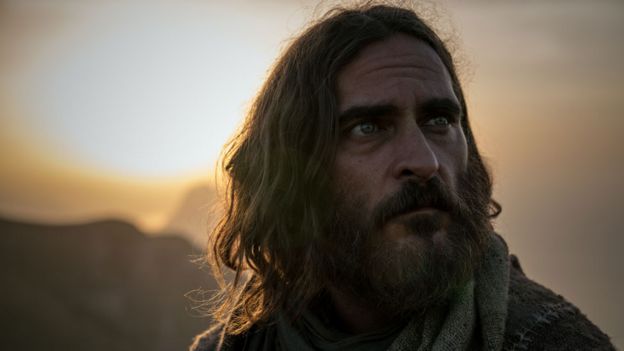 Rise like a Phoenix: Joaquin Phoenix as Jesus
"I felt that her story absolutely had to be told, and I felt even more impassioned to tell it once I knew it had been hidden for so long."
The Mary we meet in Mary Magdalene is a young woman from a Galilean fishing village whose talent for midwifery makes her an outcast.
When she learns of a charismatic missionary named Jesus preaching in her vicinity, she needs little encouragement to seek him out and become his follower.
This leads her to being present at the Last Supper, looking on as Christ is crucified and being the first person to witness his resurrection.
"There were so many things about her that appealed to me," says Mara. "She was vulnerable, yet she had this strength and this desire to really follow her true self.
"Her faith and her love of God were so important to her, she gave up everything in her life to follow that. I thought that was very brave."
"Mary has this otherworldliness and this spiritual calling," says Davis. "For me that was very critical in creating her as a character.
A baptism scene from Mary Magdalene
"Rooney's one of the most emotionally truthful actresses I know; in the silences she opens up universes. She's so unique and I felt she would bring the most compelling Mary to life."
Jesus himself is played by Joaquin Phoenix, who - in addition to being a three-time Academy Award nominee - happens to be Mara's real-life boyfriend.
"I was determined to create a Jesus that was very relatable, that was both human and divine," explains Davis.
"Joaquin manages to summon a deep spirituality in his performances and he also manages to take us through light and dark with a great sense of compassion."
Compassion has been in short supply of late for disgraced mogul Harvey Weinstein, who was an executive producer on Davis's previous film Lion.
Like Lion before it, Mary Magdalene was to have been released in the US by The Weinstein Company.
Yet
the collapse of that company
in the wake of the sexual harassment claims made against Harvey Weinstein has left its future uncertain.
Weinstein has denied all allegations of non-consensual sex.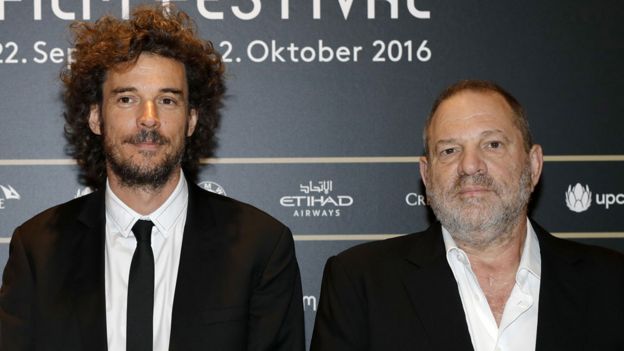 Garth Davis (left) with Harvey Weinstein at the 2016 Zurich Film Festival
"My focus is to make sure the film gets seen, and it would be a tragedy if it was never seen in North America," says Davis.
"Our producers are dealing with the ever-changing tapestry of the Weinstein situation and are looking at all options. Watch this space."
Mara, meanwhile, is hopeful that Mary Magdalene will connect with a broader demographic than "faith-based" projects tend to.
"I grew up Catholic but no longer consider myself part of any organised religion, so I wasn't that keen to make a religious film," says the 32-year-old.
"But I knew that Garth was setting out to make more of a spiritual than a religious film, and I think in that capacity it can reach a much wider audience."
Mary Magdalene is released by Universal in the UK and Ireland on 16 March.