Girl, 17, died of gunshot wound, with a 16-year-old boy in critical condition after separate shooting Police in Chalgrove Road in Tottenha...
Girl, 17, died of gunshot wound, with a 16-year-old boy in critical condition after separate shooting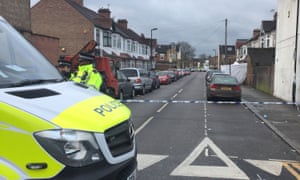 Police in Chalgrove Road in Tottenham, where a 17-year-old girl died after she was shot on Monday. Photograph: Henry Vaughan/PA
A 17-year-old girl has been killed and a 16-year-old boy is in a critical condition after two separate shootings in London.
Police were called to an incident in Tottenham at 9.35pm on Monday and found the girl with a gunshot wound. She was pronounced dead at the scene.
Less than an hour later, officers were alerted to another shooting about three miles away in Walthamstow, east London, where they found a 16-year-old boy with gunshot injuries and a 15-year-old boy with stab wounds.
A murder investigation has been launched into the killing of the girl in Tottenham – the 47th so far this year by the Metropolitan police. There were eight in January, 15 in February, 22 in March and two so far in April.
Advertisement
A woman who knew the murdered girl told the Press Association that she was "just chilling with her friends" when she was shot from a car for "no reason at all" in Chalgrove Road, a residential street near Northumberland Park station.
"The car just pulled up and just started shooting," said the 21-year-old, who did not want to be named.
She said she heard the gunshots "like fireworks" from her house.
"Her friend came banging on my door so I came out quickly," she said. "I even tried to save her - had to, had to."
She said the gunshot wound, below the victim's breast, was not immediately visible and it looked like she was "having a fit".
"I put her on her side and I was just rubbing her back, saying 'everything's going to be OK'. I just can't believe it - so young. It's ridiculous now."
A Scotland Yard spokeswoman said paramedics had worked to save the girl but she was pronounced dead at 10.43pm. "Her next of kin are aware and a crime scene is in place. No arrests have been made at this stage," she said.
The 16-year-old boy who was shot in the Markhouse Road area of Walthamstow was taken to a hospital in east London where he remained in a critical condition on Tuesday. The other boy who was stabbed was also being treated in hospital.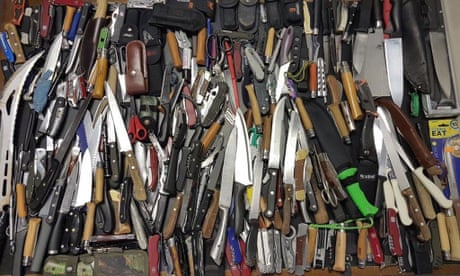 London murder rate set for 13-year high after 31st stabbing death
Stella Creasy, the Labour MP for Walthamstow,
tweeted
: "Walthamstow – can confirm tonight we have had another serious incident involving shooting and stabbing.
"Appreciate this is very distressing – I will share more information as and when have it from official sources as only want to share what is confirmed."
On Sunday, a 20-year-old man became the 31st person to die as a result of knife crime in London this year.
He was stabbed moments after leaving a bar in Wandsworth, south London, and died in the street. On Thursday, the family of Abraham Badru, 26, who was shot dead in Hackney, east London, on 25 March, warned that "gun culture is becoming rampant in our community".